Our method of evaluating projects has been developed over 19 years through more than $350 million of small transactions. We are not bankers! We understand our client's obstacles and challenges because we have experienced them ourselves. Our investment team includes Engineers, Geologists and Financial Professionals who are excited to hear about your plans to grow.
When compared to selling equity, BlueRock provides you a lower-cost alternative to raise capital. We also provide more capital than banks and our deal structure is non-recourse. This unique combination is what enables our clients the ability to realize substantially more overall value.
It's all about the people…
We focus on the people involved, just as much as the assets. Regardless of where you are in your project, we'd like to get to know you and your team. It's never too early to create a relationship!
Summary of Advantages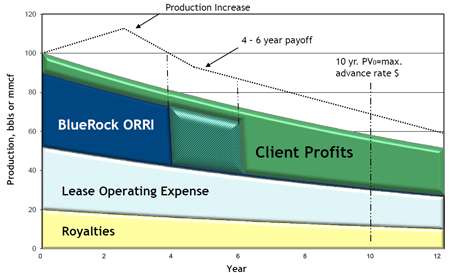 Client retains upside and control of project
Provides more capital than a bank
No personal or corporate guarantees
Investment team: engineers, geologists and financial professionals
Simple deal structure and reporting requirements
No 3rd party engineering reports required
Repeatable and expandable
Cost of capital may be tax deductible
Favorable accounting treatment may apply
How It Works
Investment Size: $1 to $20 million
Deal Structure: A non-recourse financial production payment via limited term overriding royalty and small permanent overriding royalty after payout
Use of Proceeds: Acquisitions, development plans, and monetizations
Timing: Simple deal structure results in minimal documentation and the ability to close in less than 30 days
Closing Costs: Closing costs are nominal with no hidden fees
Hedging: Hedging is not required
Area: Lower 48 (USA)